Versada – Automatic Lubrication specialist
VERSADA is specialist in automatic grease and oil lubricators for bearing, linear guides, ball screws, open gears and chain drives of all types and sizes. With the partnerships of major brand such as  EASYLUBE and DLS Germany, We are able to deliver an excellence synergy of high-performance automatic lubrication solution from single point, multi point to centralize system. Our lubrication system and components are able to retrofit existing equipment and as a value added to machine builder and system integrator.
Easylube - Single Point Automatic Lubrication
DLS Automatic lubrication system for linear guide, gear rack and chain
Centralize Lubrication System
Lubematik Hose and Fittings
Tools for Mold and Die maker
Magnet and Precision Shim
Versada – Automatic Lubrication specialist
Versada menyediakan alat pelumas otomatis yang memastikan volume grease atau oli sesuai dengan kebutuhan minimum lubrikasi (MQL) bearing, bushing, linear guide, gear rack, rantai dan conveyor. Sistem yang simple dan flexible menjadi solusi tepat untuk proses pelumasan mesin di semua segmen industri serta cocok di aplikasikan untuk retrofit maupun sebagai standard accessories pada berbagai jenis dan ukuran mesin produksi. Versada adalah partner yang tepat untuk setiap kebutuhan pelumasan anda.
SINGLE POINT AUTOMATIC LUBRICATOR
Easylube is a cost effective and easy operated electromechanical single point automatic lubricator especially design for MQL formulation. It ensures bearing in good working condition regardless the weather, operation requirement and harsh environment.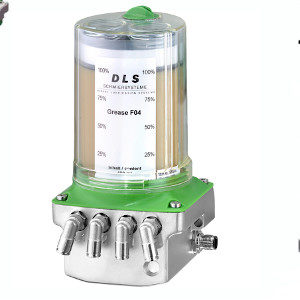 MULTI POINT AUTOMATIC LUBRICATION SYSTEM
DLS SCHMIERSYSTEME lubrication system is an extremely compact lubrication unit for oils and greases up to NLGI class 2 to automatically lubricate racks and pinions, open gear, linear guideways, ballscrews, and chain drives . A Flexxpump works autonomously either with a battery back or using an external voltage supply (24 VDC) and available in three sizes 125/250,  400/500 and 1500/2000. These pumps deliver grease or oil to the lubrication point through a piston pump with programmable frequency and delivery rate. They are combined with tubing and open cellular polyurethane. Due to the compact dimensions, the system is optimally suited for upgrades or retrofitting.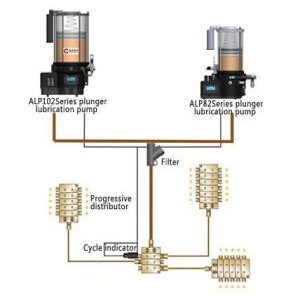 CENTRALIZED LUBRICATION SYSTEM
The Autol Centralized lubrication system is designed to provide a relatively simple and inexpensive method of lubrication up to 250 points. Autol pumps cater to all industry applications involving small and mid-size machinery and systems with up to 250 lubrication points. The Autol Electrical pumps are vibration-resistant and shock-resistant for use on mobile equipment. (e.g. bus, trucks, construction machines or agricultural machinery)
HOSE & FITTINGS
Hose and Fittings are a vital element in lubrication system of any machinery or equipment. VERSADA provide push-in connections for high-pressure tubing Ø 4 mm and 6 mm that withstands pressure of up to 150 bar. These push-in connection work especially well in cramped locations where a screw wrench cannot be applied. In addition, we offer particularly wear-resistant high-pressure hoses with an outer diameter of 4,6  and 8.6mm.
AIR GRINDER AND ULTRASONIC POLISHING MACHINE
The GP-260 Air Lapper is a low-vibration, quiet-running, durable reciprocating hand piece with a short stroke. Perfect for polishing ribs, slots and other tight areas.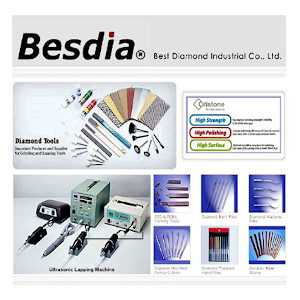 DIAMOND TOOLS
Besdia offer  high quality diamond tools that improve work quality, stability of the process, and contribute to the machining cost down at a reduced defective..
MACHINE TOOLS ACCESSORIES
GIN is the professional MC-CNC Machine tool accessories specializes in manufacturing milling vise,  tooling, hydraulic vise and accessories for high precision machinery manufacture. 
PRECISION SHIM
H+s precision foils/shim made of top-quality carbon steels, stainless steels and non-ferrous metals (such as copper, brass, bronze, nickel and aluminum) from Präzisionsfolien GmbH Germany. Shims are typically used in order to support, adjust for better fit, or provide a level surface. Shims may also be used as spacers to fill gaps between parts subject to wear.
Our catalogue as well as numerous information like user manuals, data sheets and 3D drawings can be found in the download section.
VERSADA are investing inappropriate level of stocks to bridge the gap between users and manufacturers, this business model has enabled VERSADA to respond promptly and delivering the necessary products in the needed amounts at the right time with the competitive price.
0851-0038-1515 / 0851-0173-4223 (WA)
Ruko Roxy blok A N0. 10 Jl. MH. Thamrin, Lippo Cikarang, Bekasi 17550 Jawa Barat - Indonesia